Freckle Tattoo Specialists
Can you get a permanent freckle tattoo? You might not have been born with natural freckles, but you can look like you were! It is helpful to know the differences of natural looking versus unnatural looking before deciding on which style provides you with the results you desire. Freckles look great on both men and women and really just about any skin tone too! If you've been thinking about adding an a new feature to your overall aesthetic, our natural freckle tattoo application is IT!
What is freckle tattooing? Just as it sounds, freckle tattooing is the application of pigment into dermal layers of skin creating a permanent deposit. Yes, the colors fade in a few years, however, industry standards require these to be referred to as "permanent" as pigment particles can continue to reside in dermal tissue even if it cannot be seen on the surface. Experts, tattooists and even doctors can not determine how long pigment will reside in skin layers. Tattoo pigments consist of microscopic pigment particles that are delivered into the skin by way of a tattoo needle and carrier fluids such as alcohol or sterile water. Once tattooed into the skin, the carrier fluids are metabolized by the body, some of the pigment particles are also metabolized in the initial healing period and the remaining particles left behind rest in the underlying tissues creating a "tattoo". Freckle tattoos differ from body art in the way they are applied and the pigment viscosity or type used. Freckle tattoos, when done artistically, have a very subdued natural appearance.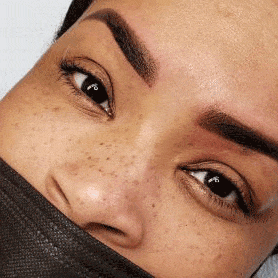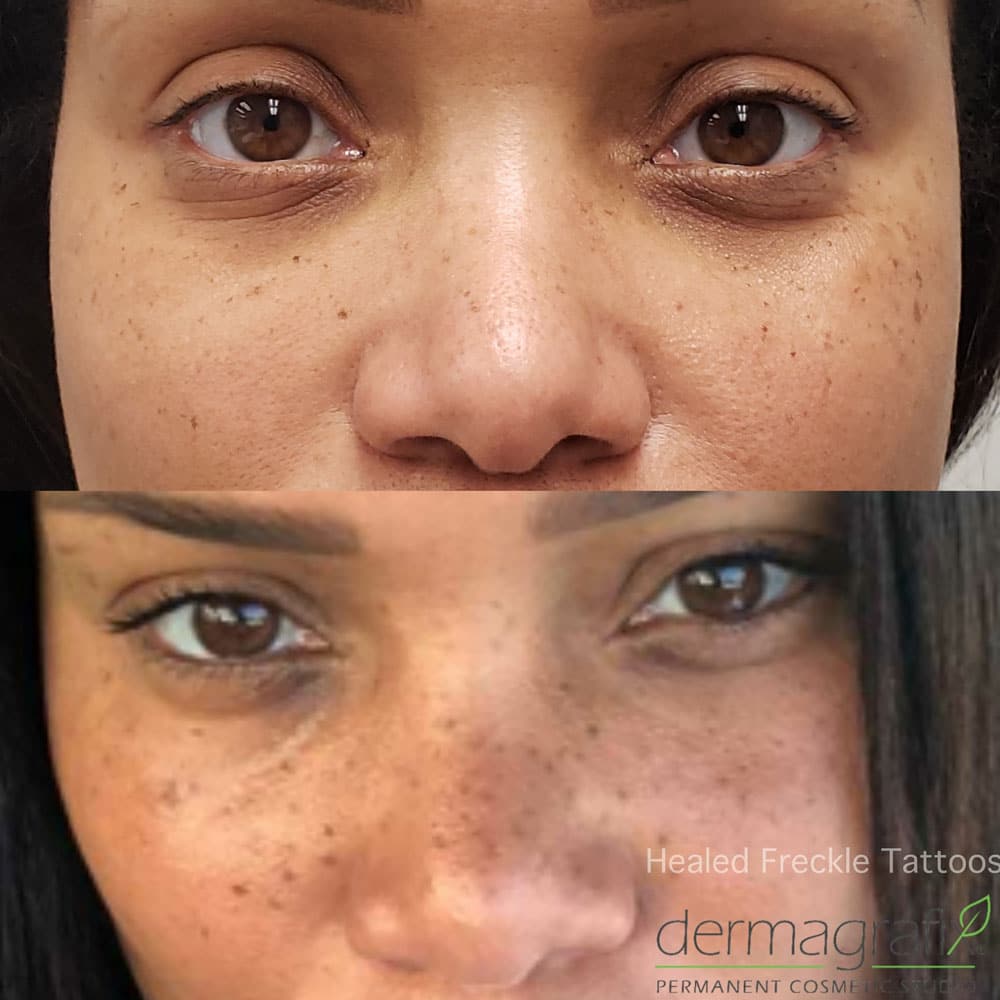 We use a strong topical numbing cream that takes away almost all discomfort. Most of our clients are very comfortable and experience no pain, only mild swelling afterwards or a warming sensation. For some individuals some skin sensitivity can be felt, however, it isn't for long and it is very tolerable. The good new is sessions aren't super long, they generally last about an hour or so.
How Do I know I will like it?
Freckle tattoos are one type of tattoo that cannot afford to be wrong. Not every artist can mimic that soft, graceful look of genuine freckles. Freckles should disappear into the canvas and be somewhat of a muted visual enhancement. Anything more doesn't accent your facial features, it instead dulls their visual impact. Placement and size is an essential part of the overall balance to that perfectly natural look. Your artist will place a template to follow on your skin prior to moving forward so you can see exactly where the dots will be placed prior to making them permanent. Color will also be discussed with you and then custom mixed for your skin tone. If you have any concerns, you'll want to express those prior to the completion of your service.
Freckles can be applied to a single feature or a combination of facial areas such as the bridge of the nose, cheeks, cheek bones, eyelids, forehead, and chin as well. Freckles should accent these areas without showing a line of demarcation to the end of where they are applied. For the most realistic tattooed freckles, trust the experts at Dermagrafix. 
Color choice is a large part of the overall effect. We prefer a more realistic look to our freckle applications and for that reason there are only certain colors we work with that can provide both a natural look but one that fades to a natural tone with time. In addition, the way the color is applied is what causes our result to be realistic looking yet have that sheer sprinkle of accentuating color. Inexperienced artists might reach for a pigment tone that could leave an undesirable grey or blue stain in the skin as it fades. This is why we only use certain colors to avoid this from the beginning. Our experts will also guide you in proper short term and long term aftercare so you get the best possible results. 
How long do freckles last?
That answer certainly depends on the individual's metabolic activity, skin type, topical skin care product usage, and how well they care for the tattoo in the initial healing stages as well as attention to long term care. Facial tattoos are more exposed to the sun and elements and are more affected by skin oils and skin care products.  The skin on the face is surrounded by more blood vessels, is thinner and regenerates twice as fast as the skin on the body.  In general, most clients can expect to get color touch-ups as soon as each year and for as long as three years. Tattoo longevity will greatly differ from person-to-person simply because factors that cause the tattoo to break down vary for each individual.
How much do freckle tattoos cost?
Large regions, such as the entire face will cost more simply because of the additional time to perform the service. A full face freckle tattoo might also require more than one session. Smaller targeted areas are priced based on size and overall result (sparse, medium density, etc). To get a better idea of how much your freckle investment might cost take a look at our pricing page. Of course, a consultation is the best way to get accurate pricing, in writing, that clearly describes your particular request and plan of action. Many freckle applications can be done in just one session.
Adding color speckles to your face can look really attractive, however, for those with a history or predisposition to skin cancer, getting permanent freckles may not be a good idea. If you've had a history of skin cancer, your dermatologist will want to see accurate changes in skin colors to properly discern any
medical
concerns that lean towards abnormalities. While the changes resulting from a permanent tattoo can be noted in the photo, tattoo pigment can potentially hide underlying abnormalities that may form. The use of a daily zinc oxide-based sunblock is recommended to preserve the health of the skin for any individual regardless of their predisposition.
Are there any after affects?
Mild swelling lasting 3 to 4 days
Slightly Enlarged Freckles (due to swelling)
Short-term, mild redness in the areas and immediate surroundings
Short-term sensitivity
itchiness during the first 7 to 14 days
Rare side-effects: skin infection or potential allergeric reaction (None have been reported since our existence in 2004)
How do I care for my new freckles?
Eye makeup and lip colors can be worn assuming freckles were not applied to these areas. Makeup is to be avoided for seven to ten days to ensure the best possible result. Your initial healing aftercare routine will be done two to three times a day for the first seven to ten days. We'll send you home with an aftercare kit that contains everything you need to care for your new freckles including instructions. You'll need to wash and moisturize the areas with the aftercare products we provide as well as avoid sun exposure, exercise, scratching the affected areas, sleeping on the tattooed areas, and be patient when awaiting the final outcome. Final results are seen after six to eight weeks.
is there anything I should do to prepare?
Healthy skin always yields a better tattoo result in any type of application scenario. In the case of a facial tattoo such as freckles, it is best to have exfoliated and hydrated skin. Granular scrubs are not best for exfoliation as they create micro-tears on the surface. Topical products that contain active ingredients such as lactic acid, glycolic acid or mandelic acid are preferred and we recommend using them several weeks prior to your freckle tattoo session. Proper hydration is always important when using an active exfoliant, therefore, ingredients that contain hyaluronic acid will rehydrate skin and promote collagen growth. For drier skin types heavier creams containing hyaluronic acid and lipids will be the most comforting and nourishing. We carry a range of pharmaceutical-grade skincare products so our clients can get the most out of their cosmetic tattoos.
Can a freckle tattoo be corrected or removed?
Yes, freckle tattoos can be removed through a safe tattoo removal method known as LiFt pigment lightening. We have been offering tattoo removal services since 2007 with exceptional results. Lightening a tattoo or removing it can take several sessions and many months to achieve. This is why it is very important to do plenty of research prior to committing to any tattoo. LiFt pigment lightening is a pretty simple process involving osmosis. The practitioner essentially will tattoo the solution into the unwanted pigment areas and the action takes place underneath the skin where the body pushes pigment particles to the surface. A thin crust forms and takes pigment particles with it. To learn more about pigment lightening or removal with one of our certified LiFT specialists contact us!
First, please contact us for a live or virtual consultation. Consultations take about 30 minutes or less and cost $35, don't worry, the cost is applied towards your tattoo session so it ends up being free. If your skin needs any preparation, your artist will discuss and make suggestions. If everything is a good fit, the only thing left to do is secure an appointment with a deposit and count down the days to a new freckled you!
Discover the Dermagrafix Experience