Core Principles of Micropigmentation (PMU)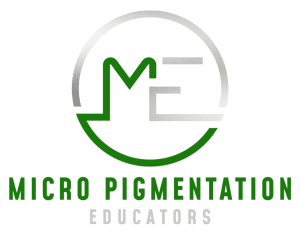 Core Principles of Micropigmentation (PMU)
Partnered with MPEducators
This program meets the standards of the Society of Permanent Cosmetic Professionals (SPCP) and the American Academy of Micropigmentation (AAM), which is imperative for licensing in some states – with initial training for eyebrows, eyeliner, and lip blushing! Our Core Principles of Micropigmentation (PMU) Class is well-rounded, information-packed, hands-on foundational class designed for beginners wanting to enter the field of cosmetic tattooing, or for those who want to add to their body art or microblading background. Rather than provide a general overview of cosmetic tattooing, we train our students in-depth over a longer period of time teaching core basics essential to their future growth. Our curriculum dissects techniques and strategies for proper planning and encourages critical thinking.  Students are presented with topics to troubleshoot and analyze multiple aspects of the process for a deeper and methodical understanding.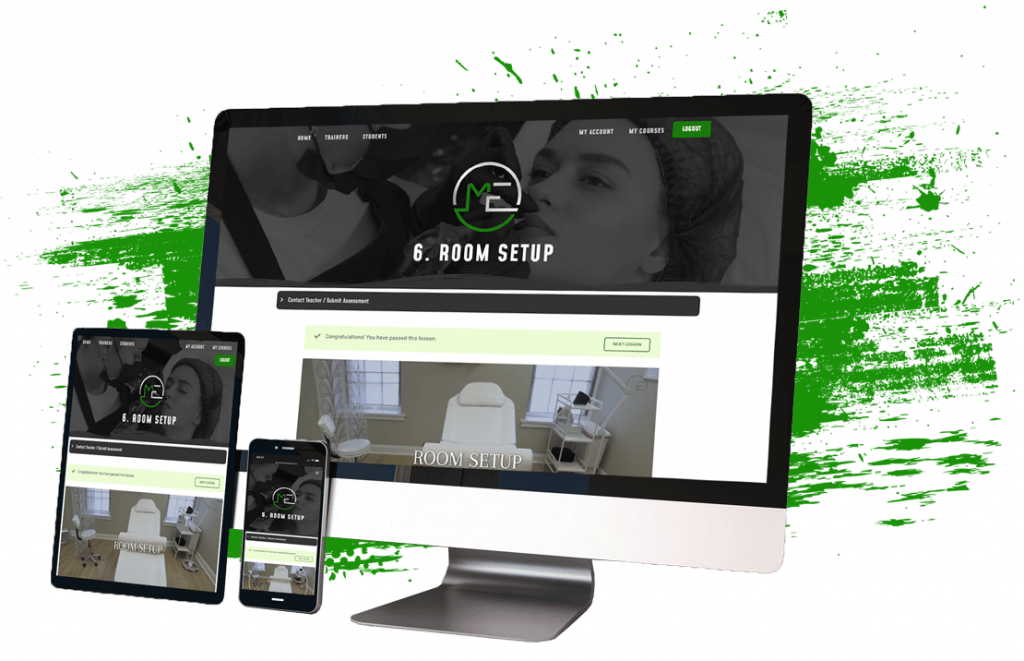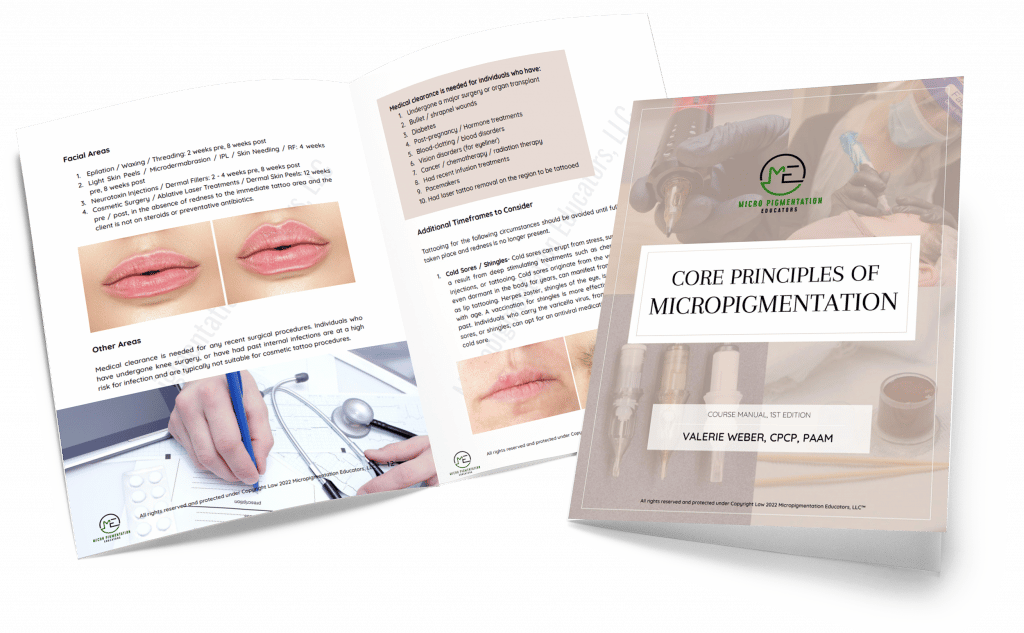 Course access, digital course manual, 4 hr. industry-specific bloodborne pathogens training ($49), course completion verification. The online course consists of 9 modules, 8 quizzes and 42 lessons for a robust understanding for those new to PMU.
Enroll in Phase I Now
Three days of hands-on skill building instruction in one or more of the following (PMU- eyebrows, eyeliner, lip blushing), full color 200+ page printed manual, practice kit, exam, trainer guidance and feedback through several weeks of home study.
Three days of trainer-supervised live model procedures (minimum of six), final exam, trainer evaluation, certificate of completion.
SIMPLE 3 STEP ENROLLMENT PROCESS
Step 1: Complete Enrollment Form
We need to know a few details regarding your enrollment into the course. In order to complete a full enrollment you are required to complete this form before registering payment and booking your seat. Your submission of enrollment fees are non-refundable and are an indication that you acknowledge the enrollment process. If you require any information or guidance regarding the application process please feel free to contact us.
Step 2: Pay Enrollment Fee
To help both manage payments and offer some flexibility with our courses we have broken down the payments for this course into different phases. Phase 1 includes the non refundable enrollment fee, and Phases 2 and 3 are seperate payments. Phase 2 comes with the option to purchase a machine.
PHASE 1 & ENROLLMENT FEE